Our partners: creating the future together.
Decades of collaboration with our network partners has proven its value. At ARKU, we constantly work together to develop optimum metalworking solutions. Intensive collaboration and active exchange expands our expertise.

Feintool: fineblanking in constant motion.
ARKU has been working successfully with the Swiss company Feintool AG since the 1960s. Feintool is the world market leader for fineblanking presses, tools and peripheral systems. Feintool's leading position is the result of a unique range of complete technical solutions.
ARKU delivers precisely calibrated feeding lines to ensure that the material is optimally prepared before stamping, providing customers with the ideal complete package.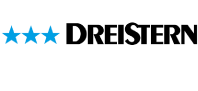 Dreistern: perfect profiles.
Dreistern GmbH & Co. KG from Schopfheim, Germany, is the market leader in roll forming systems. For decades, ARKU has been developing solutions for everything that happens prior to the roll former: decoiling, leveling and pre-punching. This results in roll forming lines with perfectly coordinated interfaces. Providing customers with perfect processes. Working together with Dreistern, we have installed numerous successful systems.
Additional information.
Contact.
ARKU Maschinenbau GmbH
Siemensstraße 11
76532 Baden-Baden / Germany
T: +49 7221 5009-0
F: +49 7221 5009-11
News.
ARKU is always moving forward. Read the latest information about our products and events.
Success stories.
What our customers say: Which challenges has ARKU overcome with its machines and how was the collaboration?
Sustainability.
For us, acting responsibly means thinking today about the world of tomorrow.