Reliable deburring and edge rounding.
ARKU offers machines for the laser & punched parts deburring and edge rounding. Depeding on the final requirements, various methods of deburring technologies can be used. The geometry, number of pieces and part dimensions, also have an influence on the machine configuration. The goal is to always achieve consistent, high quality results for deburring and edge rounding of your punched and laser-cut parts.
Deburring
The burr can vary when punching or laser cutting your materials. Burrs created via laser cutting and punching adhere to the material in various strengths. Therefore finding a comprehensive deburring solution is crucial.
Edge rounding
A good edge rounding result is characterized by removing the sharpness on the edges of your laser-cut or punched materials. This prevents injuries that may be caused by handling the material, while simultaneously improving downstream processing. Furthermore, a radius at the edge of the materials also improves paint adhesion.
Oxide removal
If you are cutting via a CO2-laser with oxygen, the EdgeRacer® can remove any oxide layers along the cutting edge of the material.
Surface finish
Punched and laser-cut parts often require high demands on the surface. A beautiful surface is a pleasant side effect of the deburring process. In some cases, a specific type of surface finish could be necessary.
EdgeBreaker® 1000
The EdgeBreaker® 1000 is ideal for small parts. It deburrs and edge rounds single-sided, while also being able to provide the material with the desired finish.
EdgeBreaker® 2000
High quantities but still flexible for different edge requirements: the quick change of the brushes allows for individual deburring or rounding on each side. The machine is ideal for your processing needs and operates double-sided.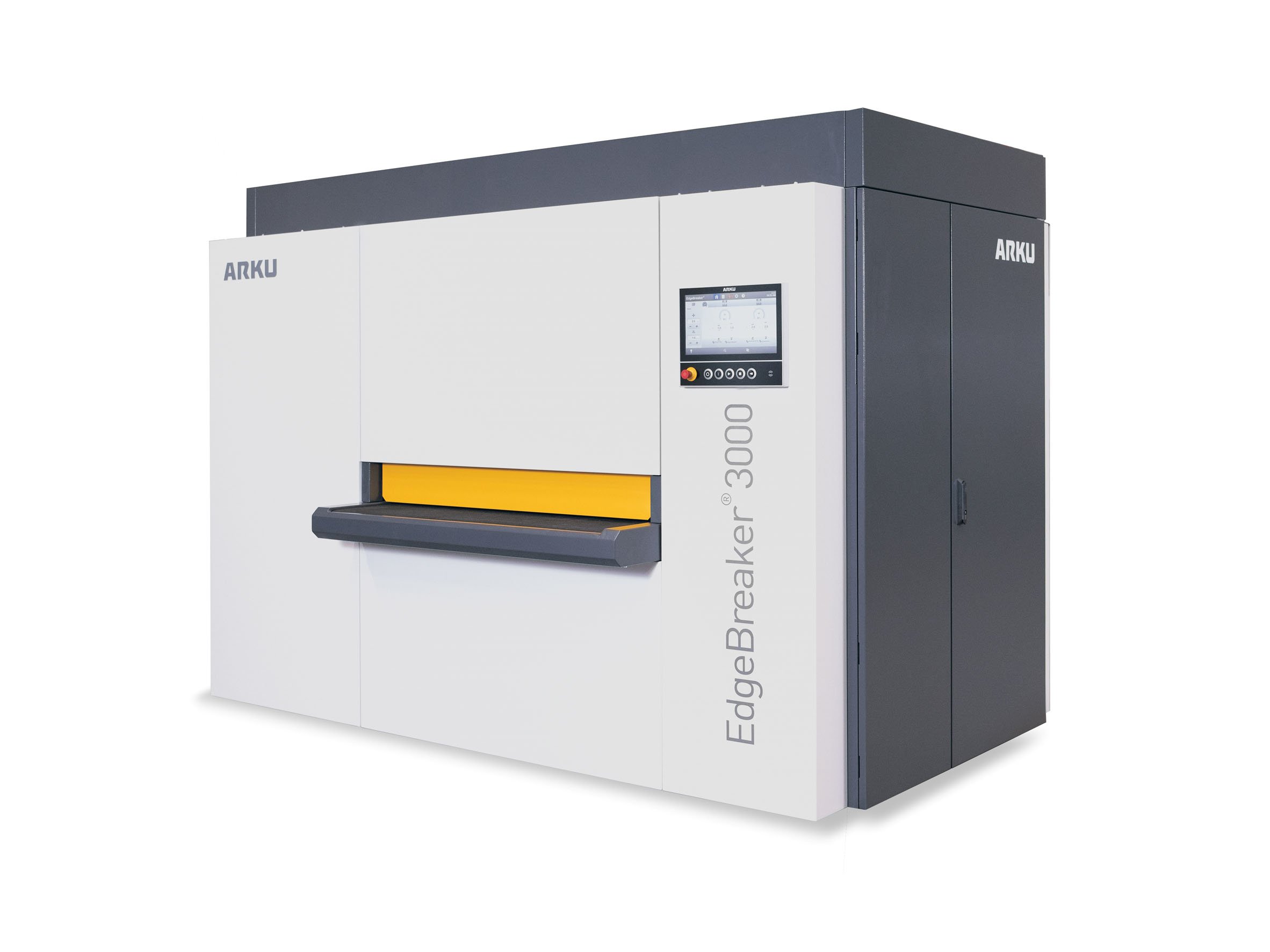 EdgeBreaker® 3000
Especially when cutting with a fiber laser, the EdgeBreaker® 3000 is able to remove the hard-adhering burrs and splatters while also providing a high quality edge rounding result. This machine allows you to both deburr and edge round, double-sided in just one pass.
EdgeBreaker® 6000
This universal deburring machine, deburrs and edge rounds small and large materials. On top of that, it also provides a surface finish, The EdgeBreaker® 6000 impresses with a very even edge rounding result. If necessary up to a 2 mm radius.
EdgeRacer®
The EdgeRacer® procceses thin parts, even three-dimensional or deformed parts, double-sided in just one single pass. This makes the machine particularly economcial for medium to high quantities in industrial sheet metal processing.
Additional information.
Success stories.
What our customers say: Which challenges has ARKU overcome with its machines and how was the collaboration?