Parts handling for efficient sheet metal processing.
The various processing steps in the sheet metal industry have become faster and faster. Modern machines, for example, manage it in just a few seconds. Thus, to increase your efficiency, the focus should be on ancillary processes. In general, companies often still rely on employees to load and unload the machines. This kind of manual work is not only monotonous, but also time-consuming and costly. Furthermore, depending on the weight of the parts, also physically demanding. These qualified employees can be utilized more effectively for other tasks. This is where the automated parts handling can provide maximum efficiency.
Automated parts handling saves time and relieves employees of backbreaking labor.
At ARKU, automated parts handling is synonymous with the Vision Robot. It autonomously recognizes the workpieces, feeds them into the machines and unloads them again. Most importantly, no programming knowledge is required in order to setup the robot. Companies that suffer from a shortage of skilled workers are now able to assign other tasks to their well-trained employees. The robot takes on the tasks which are mundane but also require a lot of time. The robot works faster, delivers better process-reliability and repeat accuracy and is more cost-effective than a human. Above all, it takes the physical load off the employees by handling the heavy metal parts, sheets and plates. With robots, interlinking automated machines and processes is the way of the future.
This may be of interest to you as well
Automated sheet metal processing strengthens your competitiveness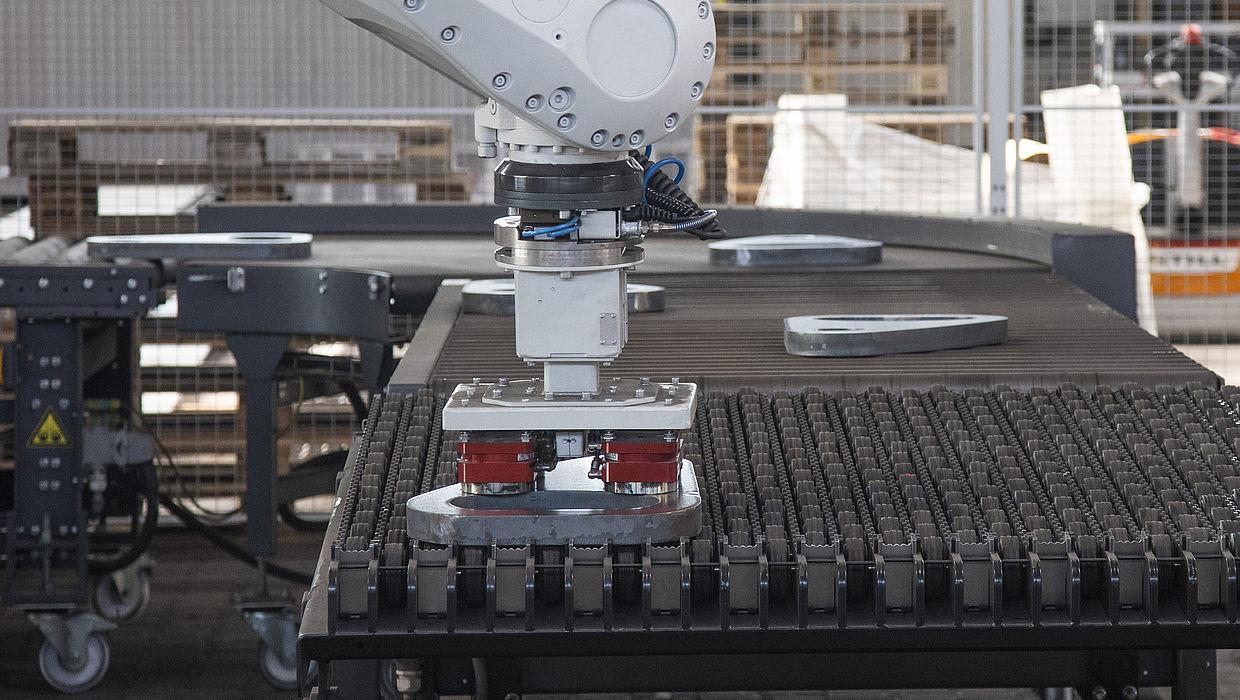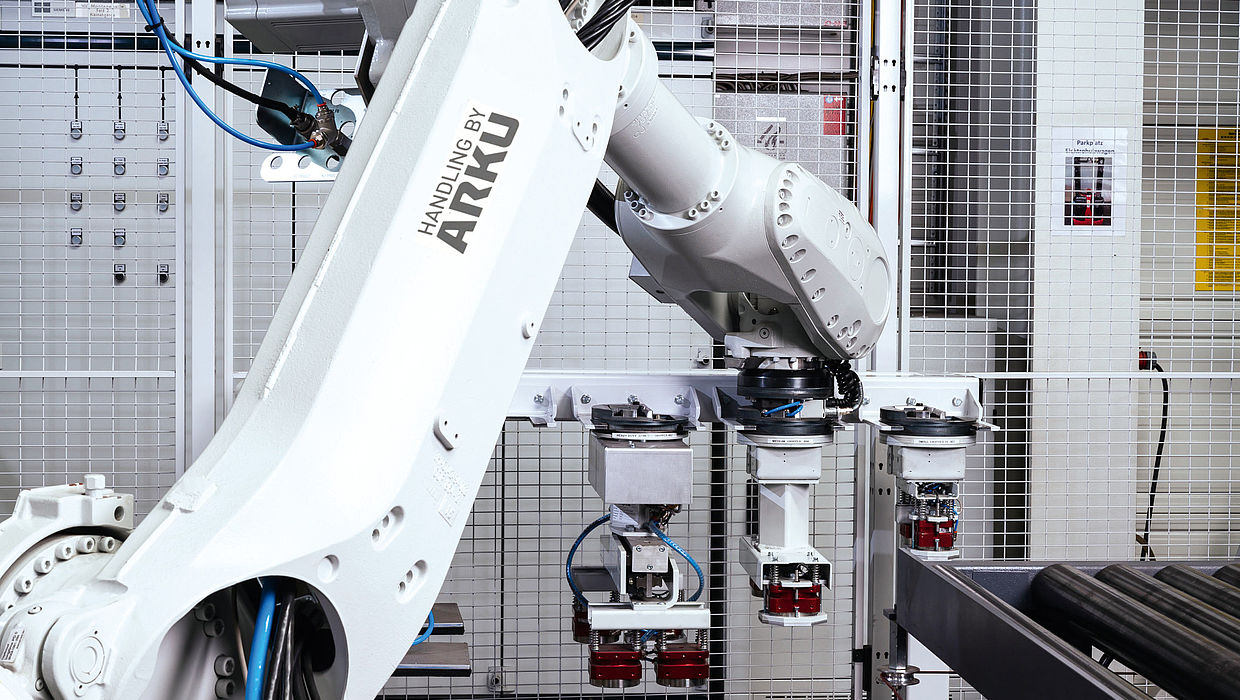 Economical – even for small batch sizes.
The required flexibility is one reason why medium-sized sheet metal processors are hesitating with the implementation of an automated parts handling solution. They handle a wide range of products and part/sheet sizes are constantly changing. A large part of their time savings would be lost, if a robot had to be reprogrammed for a new part.
That is where cameras and artificial intelligence can be utilized. A vision robot, equipped in such a way, carries out the tasks much more autonomously: It is able to recognize the parts/sheets on the pallet and how they are positioned, select the correct gripper, and then feed the material into the machine. Removing them out of the machine, without human interference and putting them back on a pallet is also an option. This translates to a higher automation level in the parts handling is available.
Monitoring the material quality during automated parts handling
Quality control should also be considered depending on the automated parts handling job. After all, the employee's visual inspection is missing during unloading. Yet, technology also manages this job with consistent accuracy, and most importantly, without getting tired. ARKU's Flatjack®, for example, checks whether the sheet metal parts and sheets are flat enough after leveling and whether final tolerances were achieved.
Advantages
With robots instead of operators, all steps of the sheet metal processing run fully automated.
No complex reprogramming when changing to different parts/materials.
All in one process means cutting overhead costs.
7 success factors for efficient processes.
From automated storage to intelligently connected processing steps: Find out about the factors that ensure efficient sheet metal processing.
FAQ
What is automated parts handling?
We call it automated parts handling when a robot handles the sheet metal parts such as the loading and unloading of a machine. It is also possible to interlink different machines.
What are the advantages of automated or partly automated parts handling?
A robot can relieve the employees by handling the time-consuming, monotonous, and physically demanding jobs. The employees in turn are then available for other jobs. Beyond that, a robot delivers better process reliability and repeat accuracy than a person - and it won't get tired either.
When should sheet metal shops invest in parts handling automation?
Loading and unloading machines is monotonous and time-consuming work. Thanks to a vision robot, employees can work on the jobs that cannot be automated. A study conducted by the Fraunhofer Institute for Production Technology and Automation (IPA) foresees a lot of potential, in particular for small and medium-sized companies: According to the study, 80 percent of the processes in sheet metal working companies could be optimized through automation.
How does automated parts handling work?
In automated parts handling, a robot takes over human tasks. Depending on the robot's capabilities, it could take on simple loading or unloading of the machine. It can even handle more complex tasks, including parts position recognition and automatic gripper change, if required.
How do I stay flexible if the parts handling is automated?
The robotic system must be able to sense the surroundings and "think", so that it is able to handle different parts. A camera is used to capture the surroundings, and for the ability to think, the robot uses artificial intelligence. That lets it recognize the sheet metal parts correctly even if they are not impeccably stacked on the pallet, or if the pallet is not positioned exactly. Artificial intelligence also enables it to select the correct gripper for the present parts or sheets. This alleviates employees from programming the robot every time when there is a new material grade / dimensions - an important argument in view of the variety of parts in laser or flame-cut job shops.