Against the brute force of the EdgeBreaker® 5000 deslagging machine, slag doesn't stand a chance anymore! The machine can deslag parts from the either the bottom or top, as well as double sided if needed. The EdgeBreaker® 5000 compliments the automatic deburring process of plasma and oxyfuel cut parts. Additionally, your costs for the following deburring and edge rounding processes will be reduced as well!
Advantages:
No turning over of parts
The slag is removed from the underside of the part. If desired, the slag can also be removed from above. Avoid having to turn over heavy parts!
Reliability
The slag removal is now more reliable than ever before. This safeguards the entire deburring process.
Quick changing of the grinding media
All media is easily changeable due to the quick change system, which therefore lowers your downtime.
User-friendly
The touchscreen HMI is truly intuitive. This feature enables even new operators to quickly and easily setup the machine. It can even give you guidance on operating and maintenance. For efficient processing and minimal operator error.
Flexibility for small parts
Even small parts can be processed safely with the EdgeBreaker® 5000. A new guide holds parts in place while running through the machine.


Technical Data.
Processing:
single-sided, from the bottom (optionally double-sided)
Material thickness:
5 - 125 mm (0.2" - 4.92")
Max. passageway width:
1300 mm (51")
Machine weight:
approx. 2,600 kg (5,700 lbs)
Dimensions:
3.000 x 1.200 x 2.300 mm
(118" x 47" x 91")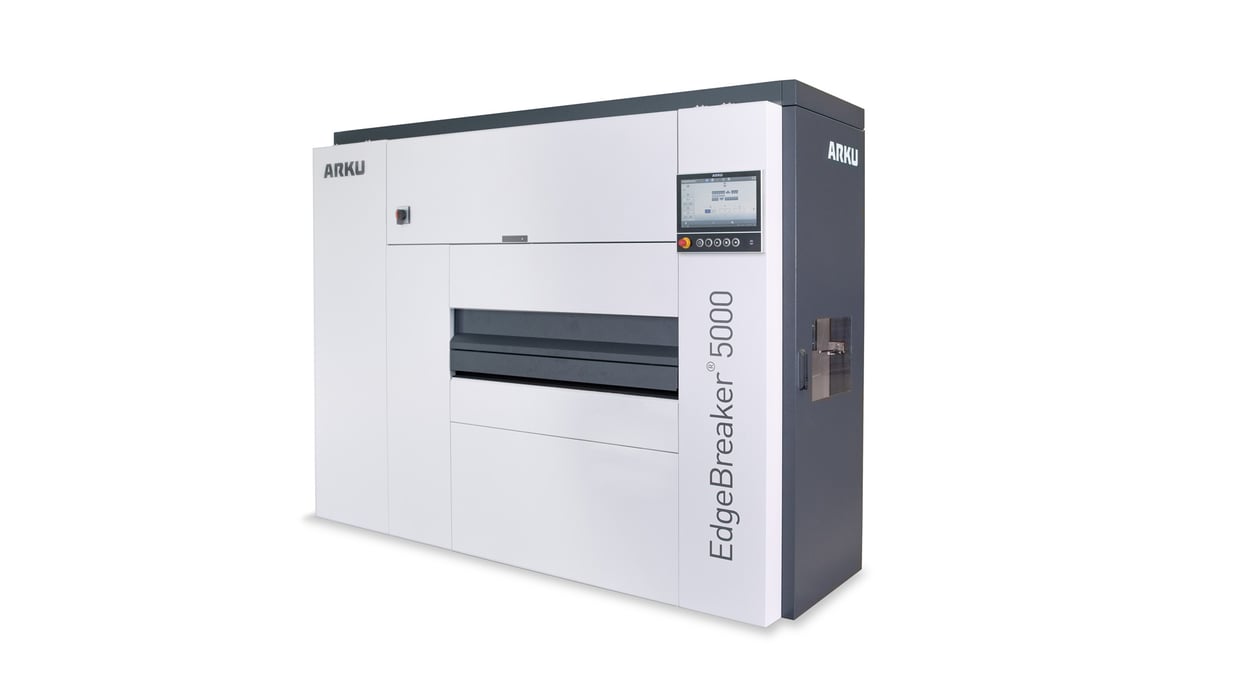 Processing modules for your requirements.
For the highest quality, safe processes as well as individual and custom solutions that fit your requirements – ARKU has developed various modules for processing sheet metal. Against the pins of the EdgeBreaker® 5000, burrs and slag stand no chance.
Additional information.
Success stories.
What our customers say: Which challenges has ARKU overcome with its machines and how was the collaboration?